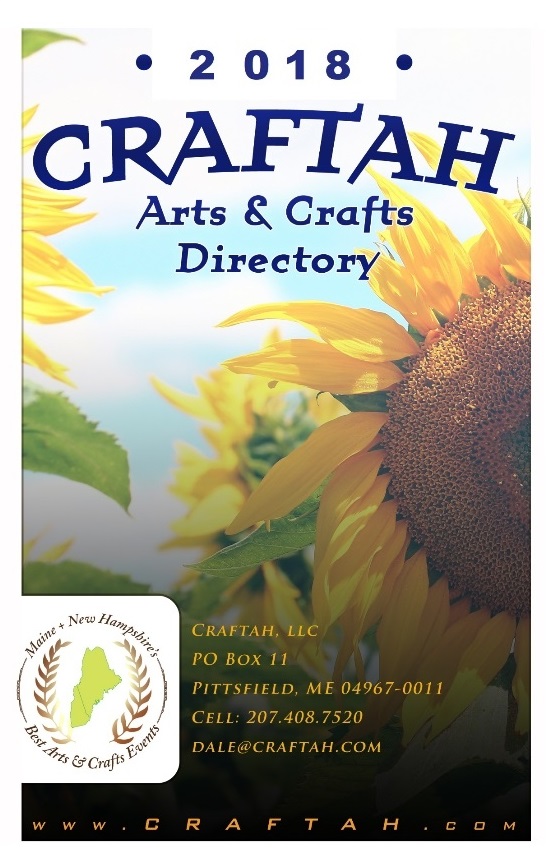 > http://www.craftah.com/EventInfo.html
Thank You For Your Interest In Letting Craftah LLC Promote Your Arts/Crafts Events.
Please Copy And Paste The Questions Below Into A New Email & Send To:

dale@CRAFTAH.com
---
CRAFTAH Arts & Crafts Directory
Form For FREE Listing Of Arts & Crafts Events
---
Please Answer The Following Questions As Much As Can/Applies To Your Art/Craft Event, Thank you!!
Please Also Consider These Questions When Creating/Modifying Your Applications and/or Informational Sheets/Letters...

EVENT NAME:

EVENT DATE(S):

EVENT TIME(S):

EVENT LOCATION (name):

EVENT ADDRESS (physical):

---
CONTACT PERSON(S):

CONTACT MAILING ADDRESS:

CONTACT TELEPHONE:

CONTACT FAX #:

CONTACT EMAIL ADDRESS:

EVENT WEBSITE:

FACEBOOK (IF APPLICABLE):

TWITTER (IF APPLICABLE):

OTHER SOCIAL MEDIA:

---

NUMBER OF SPACES [TOTAL AVAILABLE]:

SPACE SIZE [LENGTH' X DEPTH']:

SPACE FEE: $

TABLE RENTAL FEE [IF APPLICABLE]: $

---

YEARS EVENT HAS RUN:

[ie 5th Annual has run for 4 years]

JURIED / NON-JURIED:

[ie. Do you Jury Vendors for the Types & Kinds
Of Products you want to see at your event?]

CUSTOMER ADMISSION FEE: $

ATTENDANCE APPROXIMATE:

ARE FOOD VENDORS AVAILABLE FOR CUSTOMERS/VENDORS:

IS SET-UP AVAILABLE THE DAY BEFORE, IF YES-INFO:

IS THERE RV PARKING AVAILABLE FOR PUBLIC/VENDORS, IF YES-INFO:


ARE THERE RESTROOM FACILITIES AVAILABLE TO CUSTOMERS/VENDORS: ( Y / N )

ARE THESE RESTROOM FACILITIES FOUNDATION OR PORTABLE: ( ) INSIDE, ( ) PORTA POTTY
IS YOUR EVENT LOCATION/BUILDING/AREA HANDICAP ACCESSIBLE: ( ) Yes, ( ) No

[This Includes But is not Limited to: Wheel Chairs,
Scooters, Walkers, Canes, Crutches, etc]
ADVERTISING FOR EVENT (types/where):

[This is Critical. Many Vendors base Attendance
Decisions on what Promoters are doing for
Advertising, please List all you are Doing]

DO YOU ALLOW NON-ART, NON-CRAFT (INDEPENDENT DIRECT SALES CONSULTANTS) AT YOUR EVENT? ( Y / N )

IF YES, DO YOU ADVERTISE YOUR EVENT AS AN "ART/CRAFT & VENDOR" EVENT? ( Y / N )

ARTS/CRAFTS / BUY-SELL PERCENTAGE: % / % (ie 90% arts/crafts / 10% buy-sell)

[ie. Percentage of Vendors allowed for Strictly
Arts/Crafts/Handmade vs. Retail Purchase
& Resell Items]


SIMPLE ONE LINE DIRECTIONS: EX: I-95 TO EXIT 47, LEFT ON UNION, MALL ON RIGHT:




ANY SPECIAL COMMENTS:

ANY INFORMATION ABOUT YOUR LAST EVENT HELD YOU WISH TO SHARE:
.
.
.
.
.
.
.
.
.